What makes YOU the best to deserve a free copy of my greatest product ever?…
As you may know by now, Monday is going to be the launch of my new product TrafficUncut.com.
Actually, it's going to be the "pre-release" launch of the product.
It's ONLY going to be available to my readers and I'm not promoting it with any affiliates or JV partners just yet.
I've been working on this for months now, and everyone I've shown it to has raved about it – with some people saying it's easily worth over $1,000 – so I know it's going to be able to help a lot of people .
I'm also making it a limited release initially. I've got 100 copies printed up for the initial run. Here's a picture of just some of them.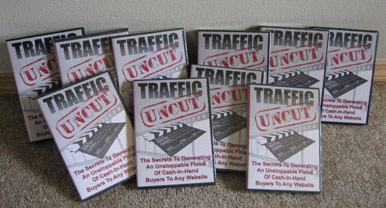 I've already given away a few copies to my closest friends so there are actually less than 100 now.
Anyway, on to the real story I wanted to tell you about…
My wife and I were at our birthing class last night (only 4 weeks left!) and we found out something that SHOCKED us …
We found out that an average baby can use up to 5,000 or more diapers – that's "nappies" for all the UK readers

– in his first year!
We couldn't believe it was that many!
Because of this my wife suggested I should call this the "Diaper Fund Launch" as we're gonna need it to pay for all his diapers

She also suggested that even though I'll be selling the course for pennies on the dollar of what it's really worth, it might be fun to give away a few copies!
So …
Never one to argue with a pregnant woman, here's what I'm going to do…
I'm going to pick 3 people to get a copy of this pre-release course absolutely free.
But …
You're going to have to convince me that you deserve it!
Usually with these type of contests, people write in and pour their hearts out with all the bad things that are happening to them which makes them deserve it.
But I don't like dwelling on negative things like that – I prefer to focus on the positive.
So to win a copy of the new course, I want you to come up with a funny, crazy or creative story about something you want to do.
It can be as crazy or as creative as you like, but I want you to think of something really fun that you'll be able to do once your online business takes off.
All you need to do is use the comment box below to enter your story.
The 3 stories that make my wife and I laugh the most will each win a free copy of the course.
Good luck!