A squeeze page is an invaluable tool when it comes to building your own list of targeted prospects in any kind of market online and in order to build your list as quickly as possible, you need to use a squeeze page template that converts the maximum number of visitors into leads.
So what are the elements you need to consider to create the best squeeze page template possible?
Short Squeeze Page Templates…
"Optin or Leave!"
Some people prefer to use a short squeeze page that has a few bullet points (or a video) and then an optin box to the side.  The types of squeeze page templates have all of their content "above the fold" so that the user does not have to scroll down to optin.
The benefit of this template is that the desired action for the user is clear – they can either optin or leave.
A potential downside to this is that you may not have enough space to adequately "sell" the optin by explaining how the user will benefit by opting in.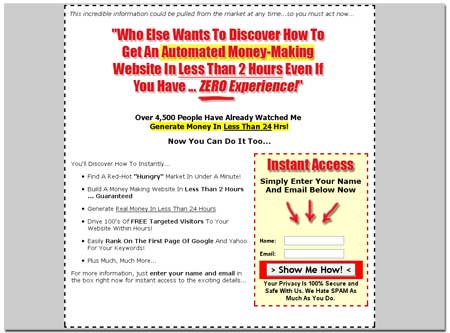 Longer Templates …
"Sell Them on Your Freebie"
The opposite to the short template is a longer one with more sales copy explaining to the user just what they can expect after opting in.
Make the squeeze page 2-3 pages long (or even longer) typically.
Place the optin form at the bottom of the 'salespage'.
An advantage of this is that you can get higher conversion rates because as people read through your copy, they can become more excited by what you are offering, and be more compelled to give you their name and information i.e. you will get much more optins from people who take the time to read your page.
A dis-advantage to this design is that your sales copy needs to be good enough to keep people wanting to read and scrolling all the way to the bottom. If they get bored and never make it to the bottom, they wont see your optin box and wont sign up.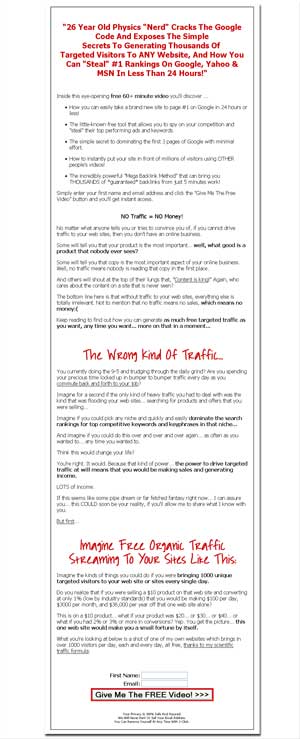 The Best Template For Maximum
Optin Rates??
Consider using a mixture of the two …
Use a short video and optin form at the very top of the page for people who want to sign up immediately.
Below this, have some longer copy that explains the benefits in a little more detail, along with another optin form at the very bottom.
This optin page template gives the user two opportunities to sign up, and helps maximize your conversion rates.
The Only Way To Guarantee
High Conversions …
The only real way to know which one is going to perform better is to test each one against the others. Only when you have real results will you know which is going to be best for your market and audience.
If you need help creating the optin page from scratch, make sure to read my post on free squeeze pages.
Other elements you can test include:
Adding your picture to the page (to increase trust)
Adding your signature to the page (as above)
Adding graphical elements to make the site look more professional, and to show people what they are getting i.e. image of the free report.
Using strong calls to action and graphical cues to lead the users eyes to the optin form.
Download Your Free
Squeeze Page Templates…
To get 2 free professionally designed squeeze page templates that will help you rapidly build your list on autopilot, simply enter your name and email in the box below.
To YOUR Success,