This is a follow up to my last lead generation post on lead generation marketing as it's something that has sparked a LOT of interest among my readers.

During these tougher economic times, traditional offline businesses are looking for more ways to expand their reach and gain new customers.
They're realizing that good old Yellow Page advertising just doesn't cut it any more.
They KNOW they need to be online… but they don't know HOW to get online.
Help Others Generate Leads
And They'll Pay YOU…
Taking offline businesses and giving them an online presence isn't really all that difficult – all you need to start with is a basic website and some basic on page SEO, a few backlinks and they will start getting traffic from Google.
Offline businesses are used to spending money advertising in places like Yellow Pages, newspapers etc, so if you can show them a way that they can tap into the power of free traffic from Google, you'll find many of them scrambling to write you a big fat check on the spot!
Infact, several years ago when I was in my marketing 'infancy' I created a simple website for my Brother-in-laws business.
He's in a competitive market, where each new client is worth thousands of dollars to him … annually.
The website was little more than a 4-5 page site with some basic information about the company, a few testimonials from satisfied customers, and a phone number to call for more information.
If I'm brutally honest, the design looked amateurish (but hey … I was an amateur back then!

) and I knew very little about SEO.
After creating the site, I submitted a few articles with backlinks to the site.
Soon after, the site was on the front page of Google for their main keywords.
Fast forward to today, and the site is #1 on Google for multiple keywords and is one of their main source of new customers.
(My brother-in-law has even had his competitors literally begging for my contact information because they wanted to pay ME to build a site for them!)
The great thing about working with local businesses is that the keywords people use to find them are very specific, typically several words long, and so are VERY easy to get good rankings for.
How To Build A Simple
Lead Generating Site …
Here is what I would do to create a new site for a local business…
1) Register a domain name that is the EXACT keyword they want to rank for this is typically something like www.[occupation][location].com … e.g. www.FederalWayDentalClinic.com/org/net
(TIP: If the .com one is gone, try .org, or even .net – so long as people are finding them through Google, it doesn't matter what the extension is as they just have to click it, not remember it)
2) Create a simple 3-5 page site using basic on page SEO … e.g. Put keywords in the title tags, <H1>, <H2> tags, in the body of the content, in the filename of images etc.
3) Create a series of articles and submit them to different directories, linking back to the site with the keyword as anchor text. (see this post on affiliate marketing tips for more info)
4) Write a simple press release and submit to free press release sites, or spend $19 with WebWire.com to get a press release with 3 strong anchor text backlinks to the site.
Just that amount of work will usually get them on the front page of Google very quickly.  And to get them even higher, you just need to generate a few more backlinks.
How To Make Money Selling
Lead Generating Services…
It's not uncommon to find companies spending more than $10,000 a year just in Yellow Pages advertising (and who uses Yellow Page books now that Google is here??), and even more on other advertising.
If you could offer to build them a site that will actually bring them new customers from free traffic, and at a fraction of the cost of their annual advertising bill … do you think they'd be interested?
You bet they would!!
You can easily charge a minimum of $1,000-$1,500 for this work (and you should realistically aim higher … especially once you have a 'portfolio' of sites you've created) AND you can also charge a monthly retainer fee for updating the site, writing more articles etc.
And it's NOT difficult to build a professional looking site.
– You can get ready made professional templates from hosts like HostGator that are FREE for you to use (click here to see examples)
– You can create 3-5 pages of information for the site just by writing about the company, and putting keywords in all the right places for SEO.
– You can write and submit an article to the major directories in 1-2 hours maximum
– You can write and submit a press release in the same time.  (Use the $19 WebWire.com service and you are almost guaranteed to get the press release on page #1 of Google)
– Add their site/business to the Google Business Center (http://www.google.com/local/add/) and get them a free listing at the top of the search results like in the image below: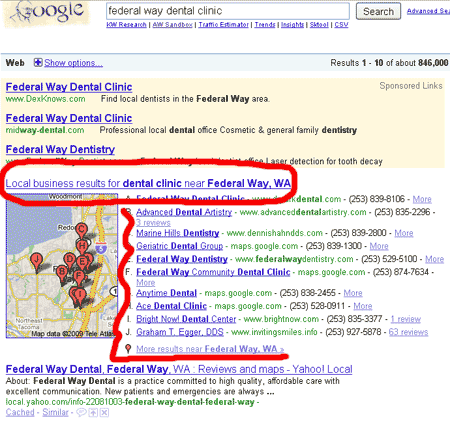 You can easily get all of this accomplished in a single day if you're prepared to work at it.
Even if you didn't want to do the work yourself, you could outsource this for a couple of hundred dollars and keep the rest for yourself as pure profit!
Just one new client a week at $1,500 gives you an income of $78,000 a year!
Not bad huh?


And if there's one thing I've learned about local business owners, it's that they TALK to other business owners.
Once you start getting results for different clients, I promise you that the referrals will come thick and fast.
(Here's another really powerful tip … Offer to give clients a $100 discount if they'll recommend you to 3 other business owners they know!)
So if you still believe in all the hypey 'systems' and 'programs' that promise you a million dollars overnight … this may not be for you.
But if you aren't afraid to put some effort into building a real business, consider becoming an offline consultant.  It can be a LOT more lucrative than regular affiliate marketing and a lot LESS work!
Don't forget to use the comment box below to let me know what you think!  Is this something that interests you?

To Your Success!