Affiliate Marketing … The Quickest Way To Make Money Online?

I get a lot of questions from readers, and the most common one is from people who want to make money online as quickly as possible …. preferably yesterday!
The truth is, if you want to build a business online, that is going to take time.
BUT …
It *is* also possible to find some ways to create some quick cash through affiliate marketing.
With this post I'm going to give you a plan that ANYONE should be able to follow, time and time again, to generate some affiliate commissions, without spending a single penny.

Step #1 – Choose Your Product To Promote
The easiest way to do this is to go to Clickbank.com and sign up for a free account.
Look in the "Marketplace" for different products. It's divided into 9 categories and 94 sub-categories.
Go through and pick out a product that you want to promote.
(HINT: I usually find the further you dig down into the categories, the less competition there is to promote it online!)
Example: It's now coming close to the holiday season so people are going to be cooking/baking a lot. I found a "Cooking And Recipes" category in the "Home And Family" section of the marketplace. There are several products here to promote.
I look at the $/sale and %/sale amounts to decide which one to choose. (The higher the values, the better)
I find one product on "restaurant recipes" that is #1 in that category, with a reasonable $/sale amount of $20.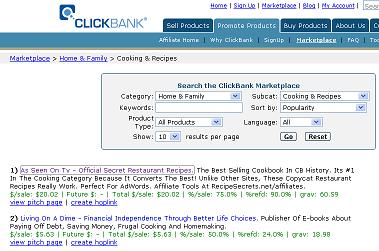 Step #2 – Find Some Good Keywords To Target
We're going to create some content to submit online as a way to drive free traffic to our affiliate link. But to do so, we want to focus on keyword search phrases that will be easy to rank for in the search engines.
To do this, I use a free keyword tool which you can get at the link below:
http://www.trafficuncut.com/keywordtool.exe
1) I input the main keyword "recipes" and hit "Gather Keyword". This gives me a list of related keywords and the number of daily searches for that term.
2) Clicking the "Gather Data" button returns the number of competing pages in Google, Yahoo and MSN for each of the keywords.
3) My goal is to pick out keywords that have high search volume (minimum of 20 daily searches) and low competition (less than 20,000 competing pages is good as a rough guide)
I find one keyword "Olive Garden Recipe" that looks good with 2,000+ daily searches and only 16,000 competing pages
TIP: If you find a good keyword, try making that your new MAIN keyword and performing the search again …
This gives many more related phrases with even less competition e.g.:
Olive Garden Soup Recipe
Olive Garden Salad Recipe
Olive Garden Bruschetta Recipe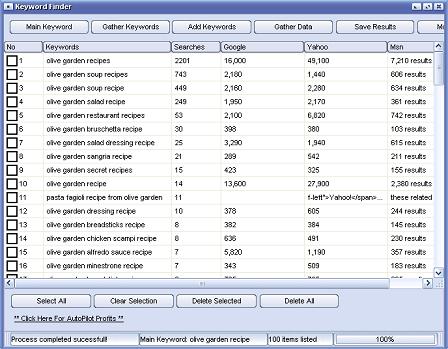 Step #3 – Create The Content
Now you need to create an article or review based around your chosen keyword(s)
Your article should have the keyword in the title, in the first and last sentences, and at least once in every paragraph.
If you sign up to the affiliate program for the chosen product, they will usually have sample articles you can use for ideas.
If you're really stuck for ideas, you can even go to sites like EzineArticles.com, type in your keyword and see what other people have already written about.
Once you have created your article, use it to create a "lens" (i.e. webpage) at Squidoo.com
At the end of your article on the Squidoo page, place your affiliate link to the product you are promoting.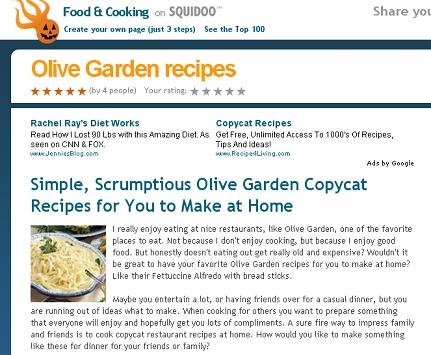 Step #4 – Submit The Content Everywhere!
Take your article and also submit it to sites like:
EzineArticles.com
GoArticles.com
Buzzle.com
iSnare.com
HubPages.com
Weebly.com
USFreeAds.com
WetPaint.com
Blogger.com
Wordpress.com
At the end of each article, make sure to place a link back to your original Squidoo article/review page.
This is so that when people read your article they will click through to your Squidoo page and then through to your affiliate link.

Step #5 – Bookmark Your Content
Social Bookmarking is a great way to get your content indexed by the search engines quickly and can help it rank higher – therefore giving you more chance of people seeing it.
The site I recommend using is:
SocialMarker.com
Use this site to bookmark your Squidoo page and one or two of the other pages where you submitted your content.
The combination of submitting content, plus bookmarking it can bring you a lot of free traffic – particularly if you picked the low competition keywords.
Once you start getting traffic to your affiliate link, the sales should follow soon!

Step #6 – Rinse And Repeat!
Once you've finished with your first keyword, take a new one and create some new content based around that and repeat the process over again!
You can do this for as many products, in as many markets as you like.

So What Are You Waiting For?
This is possibly one of the quickest, easiest and definitely cheapest ways of making money online.
It does take some investment in time and energy to create the articles and submit them, but there is NO such thing as "free money" online.
Anything you do will require an investment of either time or money.
The good thing about this is that once you start seeing results and generating income, you can re-invest your profits (getting content created and submitted for you etc…) so that you spend less of your own time doing it.
So there you have it – a step-by-step plan for quick affiliate marketing.
All you need to do now is take action!
To YOUR Success,